| | |
| --- | --- |
| Posted on August 8, 2017 at 7:30 PM | |
A continuation of last week's blog entry, this past weekend was the Collingwood Arts and Music Festival at the Museum grounds, also known as 'The Station'.  This is how the events unfolded:
Saturday: Waking up at dawn I was horrified to hear the steady drip-drip of rain, however it diminished to a fine mist and disappeared altogether on the trip to the site.  We had set up our canopies the night before, so all that was needed was to hang the work and arrange the table displays.  Things looked quite promising with the sky having "enough blue to make a Dutch boy's trousers" as my mother used to say.  It became bright and sunny with the clouds scudding along rapidly, in fact they were moving along at a tremendous speed as the winds picked up and played with canopy covers and toyed with the tents.  Our tents were secured somewhat with spikes but there must have been a lot of rock under the grass as the spikes would not go all the way down.  Water jugs were paired up and pressed into service as extra weights.  This seemed to work quite well but others weren't as fortunate. The violent gusts starting wreaking havoc with tent coverings and display items.  Some people simply packed up and left, others tried desperately to hang on to the struts and tablecloths.  Everyone's eyes were trained on the skies, which alternated between brilliant sunshine and ominous black clouds. I was starting to pack up my paintings and had my plastic tubs ready to pile them in when I heard one of the judges enter my daughter's tent which was right next to mine.  As this is a juried show I didn't want to have the judge see my uncovered tubs and wrapped up paintings so I frantically scampered about putting it all to rights, hoping he would keep on talking until I was finished.  I managed to unwrap and arrange everything and cover up the tubs with a tablecloth (they double as display units) just in time.  He was completely oblivious and didn't even notice my damp brow.  
Eventually the weather conditions won however and the show ended at 1:30pm instead of the scheduled 5pm close.
Sunday:  I checked the forecast which predicted a 30% chance of thunderstorms which made me nervous.  They never materialised though, we had a glorious mostly sunny and hot day which improved everyone's mood.   One of the TV stations sent a videographer to film the event, he was a very pleasant fellow who joked that everyone scattered when he appeared, even worse if he took out his microphone.  He did take some great footage of my daughter's paintings which appeared on the CTV Barrie news.  There was some alarm when it rained a bit but it lasted only minutes and most people barely noticed.  Overall a great day, made even more enjoyable by a visit from a favourite client and the Honourable Mention Award I received for my work.  I also achieved a hearty glow on my nose which rivals Rudolph's, but I'm not complaining....I was just so happy to see the sun.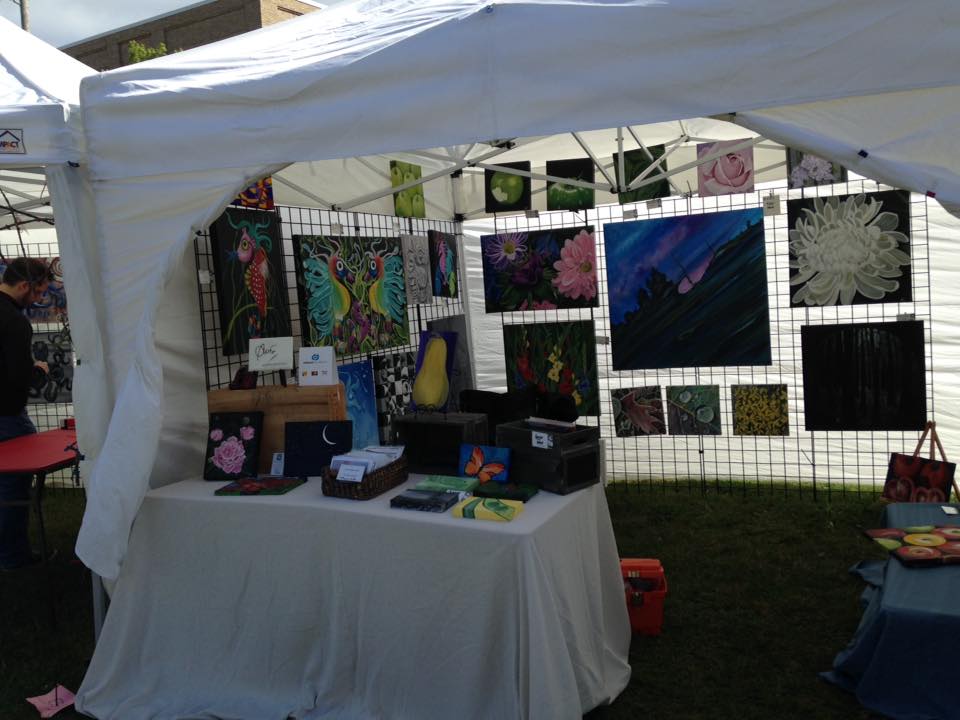 Well it's all over for another year.  I look forward to CAMF 2018!
Have a blessed week.
Categories: None
/