| | |
| --- | --- |
| Posted on August 15, 2021 at 1:10 PM | |
I can hardly believe it's already mid August.  This is the time of year that the Canadian National Exhibition, commonly referred to as the CNE, starts and for me it always kind of signaled the beginning of the end of summer.  I've often questioned how the summer months fly by and the winter is slow, slow, slow.  Of course the CNE is not happening at all again, due to Covid-19 with it's umpteenth variant making the rounds.  This time it's the Delta variant, originating in India and rapidly spreading everywhere in the world, the worst spread seems to be to the south of us in the US.  They had loosened so many restrictions and of course unfortunately there seems to be pockets of "anti-vaxxers" so an ideal situation for Delta to take hold.  A concern to me is that Canada chose this time to allow fully vaccinated Americans to enter through our land borders....as long as they can provide proof of vaccination.  That said, there's already been a couple of fake vaccination certificates caught and fined....but those are the ones caught.  It makes for a very anxious environment, and I question the sanity of whatever government minister thought this was a good idea. 
My own family have all been fully vaccinated except of course my three year old grandson, there are no approved vaccines for children under twelve as yet.  Since schools will resume to in-school learning in September, this is a major concern.  Our province has recently announced two important updates, the first being that all healthcare workers must have a vaccination (no brainer actually) and we will not move forward with any further reopening strategies. I was grateful for both of those announcements, I have felt for some time because I have been remembering last autumn when we lapsed into horrifyingly high numbers and had to lock down with stay at home orders.
I've been struggling with my art.  It's very hard to feel motivated these days with so much anxiety about, however I managed to work myself up to one square foot painting and three 2" x 2" magnets.  I felt better after painting those.  I've also acquired a lovely set of new synthetic watercolour brushes. I love the look of watercolour paintings but have always shied away from them as they're definitely not as forgiving as acrylics!  And you have to Plan Your Painting.  That is terrifying! 
Below is my latest painting I called 'Winter Sun' and is taken from a photograph I took in Meaford.  I added the two cardinals for a splash of colour.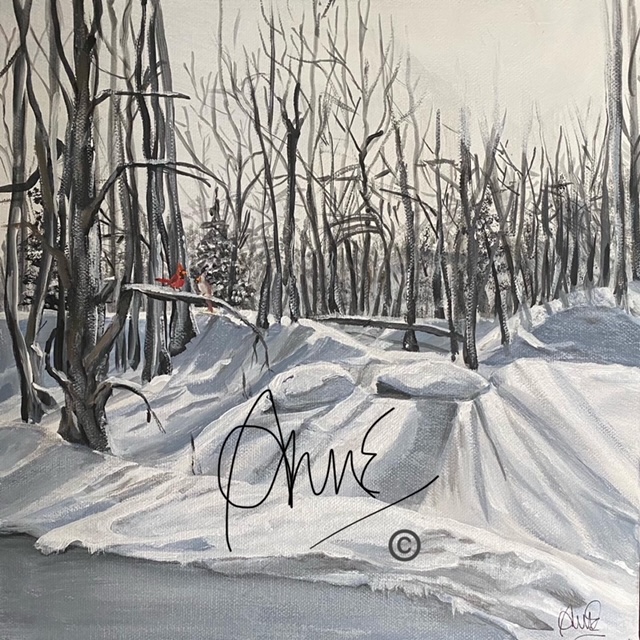 The magnets are below.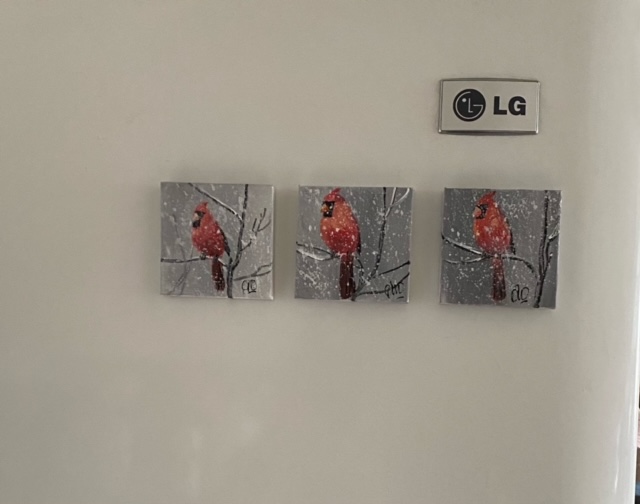 I must apologise for the quality of that ^ photo!  But you get the idea.

Stay safe!  See you in September!!




Categories: None

0

/