| | |
| --- | --- |
| Posted on 23 September, 2019 at 19:20 | |
Hello,
After a long break for the summer I'm back on the blog.  Today is the Autumn Equinox and although I do like the autumn season there's a sadness to it that I never fail to feel.  The Earth is preparing for the long winter sleep and as the days grow shorter a chill usually starts to creep into the air.  I must say though, so far the weather has been warm and glorious. Mother Nature is not ready to slip into Autumn just yet.....and that is perfectly fine with me!
Over the summer I worked on a special painting as a gift for a new business owner.  Here is 'Sonia's Butterfly' in it's forever home in the shop.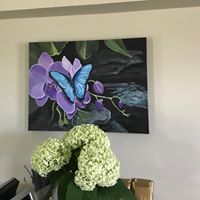 A rather exciting event that occurred over the summer is that my wee grandson Niko decided to start walking.  My daughter sent me a little video of him in a store that I'm sure I've watched at least one hundred times.  I just can't get enough of that little guy!
Lately I've been working on some smaller pieces for a small October show in my favourite garden centre, Ormsby's in Meaford.  The Scarecrow Invasion is in full swing with all the little figures dangling from the streetlights and dotted all about the town in little groups.  Autumn is beautiful in Meaford and the whole town gets into the Scarecrow theme,  There are numerous apple orchards in the area and you just can't beat the wonderful crunch of a freshly picked apple. I've been painting some very tiny pieces, some of which feature apples.
I'm thinking about expanding my line of cards to include more specific occasions.  I started out just doing cards of some of my works with no sentiments inside, then added a couple of birthday designs.  Last year I added three Christmas designs which did quite well at my fall and winter sales.  I must get busy and paint a few more Christmas themed works to use for more variety.  
That wraps up my first blog after the summer break.
Blessings to you and yours!
Categories: None